The More Meeting Heroes the Better
Most of your employees claim to know how to run a meeting. The results suggest that may not be the case.
They may know how, but few are doing what they know. It's time to change that.
It's Not an Information Problem
The nearly universal scorn of meetings can be attributed to three causes:
1. Skills
They have the knowledge, but not the skills. You might know that the way to make a golf ball fly straight is to ensure the club face is square when it slams into the ball. Still, it's really hard to apply that knowledge.
2. Discipline
They don't have the discipline to do what they know. The main issue here is the lack of preparation. Most of a meeting's success is determined well before ever calling it to order. Insufficient prep time leads to poor results.
3. Courage
They don't have the courage needed to do the right thing. Some meeting participants are scary. They have a lot of power or are one of those "strong personalities" everyone fears. It takes guts to take them on and keep them from wrecking your meeting.
Build Your Team of Meeting Heroes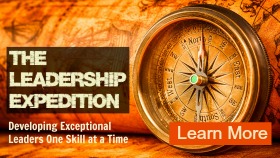 Imagine having a core group of meeting facilitators who really know how to maximize the productivity of any meeting. We can help you build this team.
In an hour or two, we can provide some quick tips that will nudge people to better apply their knowledge.
For better results, we prefer to dive deep into some of the core skills needed to successfully run a meeting. As examples take a look at the sessions in The Leadership Expedition program. There is a series dedicated to meeting leadership and another focused on more advanced meeting facilitation topics.
Customized to Meet Your Needs
If you did all sessions, there would be 10 hours of content. Add some more time for practice and expert coaching, and the result is 2-3 days of intense training.
I know what you're thinking. You can't stick 8-12 people in a classroom for 2-3 days. Too much to do.
That's why we work with you to identify exactly the skills that will create the biggest positive impact on your meetings and customize an approach that works for you.
Most clients prefer to bite off half or full day chunks at a time. Others want it to stay really short and request The Leadership Expedition because they like the fast and focused approach.
Conference Breakouts and Keynotes
Running better meetings is a great all-purpose topic for large meetings. Whether addressing the whole assembly or providing a breakout session, these materials can easily be applied in this setting, as well as the more hands-on workshop format.
Who Are Your Most Likely Meeting Heroes?
Look around at the people who lead most of the meetings. Mid and upper level managers not only run a lot of meetings, they set the example that their frontline managers and supervisors follow. These folks need to be meeting role models.
Project managers spend a lot of time running meetings. They are also guiding your organization's most important initiatives.
Finally, emerging leaders are great candidates. The benefit of providing them with this kind of training is that you can help prevent bad meeting habits from forming in the first place.
Let's Get Started
We should talk. Tell us about the meeting problems you see, and we'll provide a training solution that builds the skills within your organization that will solve the problem.
If the solution goes beyond skills, we can offer those recommendations as well.