You're a leader. You should be willing to lead your meetings.
Most of time that's true, but there are exceptions. Five come to mind.
1. The Meeting Is Going to Be Tough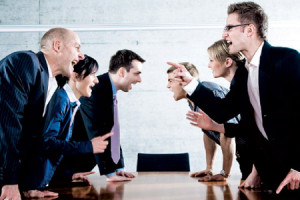 There are circumstances that should alert you that a particular meeting is no ordinary meeting. The stakes are high. Success isn't an option. You expect trouble.
There are a number of challenges all converging in this one meeting:
The group is large.
Time is tight.
There will be many "strong personalities."
The issues are emotionally-charged.
Others have tried and failed to reach this meeting's goal.
2. You Want Honest Opinions
If you're the boss and the meeting leader, your employees will likely hang back and wait to see what you think. Once they know, their opinions miraculously match yours. Are you surprised?
A neutral third party can draw everyone into the conversation, and make sure your opinions aren't the only ones expressed. When you need to crank up the candor, a facilitator will help.
3. You Don't Have Time to Prepare
We plan and lead meetings that are fast, focused, and some even say fun. When time is short and results matter, you need a professional meeting facilitator.
4. You're Not Neutral
Participants want a fair process, particularly when evaluating and deciding about various options. You have clear ideas about what the group should decide. If you're running the decision-making process, people will complain the decision was rigged.
5. Meeting Leadership Isn't Your Strength
We've all got our unique gifts. Unfortunately, running a meeting doesn't appear to be part of your gift basket. If you know it, and everyone else does too. Fess up, and bring in a pro.
Of course if you want to fix the problem, consider one-on-one meeting mentoring.
Here's What We Include in a Facilitation Project
When you turn over the meeting to us, we will plan the meeting, prepare an agenda for your participants, lead the session, and provide a written summary (usually within one business day).
We Wear Many Hats

Call us a facilitator, moderator, emcee, or chair. It doesn't matter.
What does matter is that you have someone leading your planning and problem-solving sessions, town-hall meetings, conferences, and all the other gatherings you pull together because you want to get something done. We'll make sure that you do.