When you lead a meeting, you wear many hats: Initiator, questioner, summarizer, and organizer are a few that come to mind.
Sometimes you also wear a special shirt, the striped shirt worn by referees. It comes in handy when emotions boil over and tensions soar.
With the shirt comes a whistle. It's an important tool. The hard part is knowing when to blow it.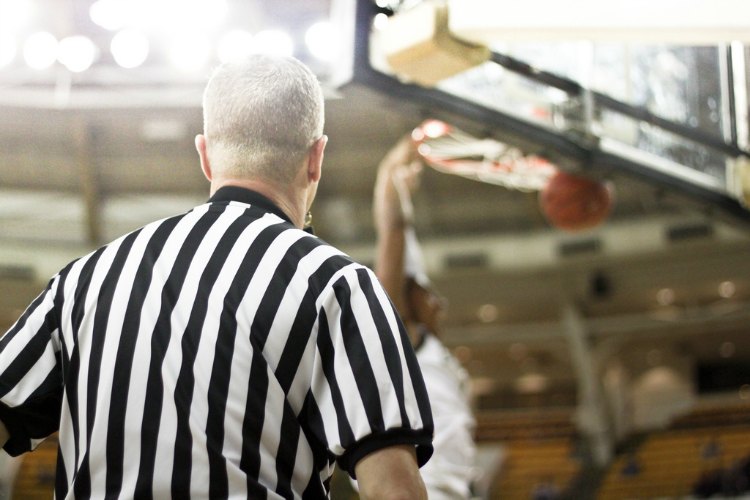 It's getting a little rough
Watch enough basketball on TV and eventually you'll hear an announcer say, "The refs are letting 'em play tonight." It means that elbows are flying and the pushing and shoving under the basket normally would warrant a foul, but for some reason the refs aren't blowing their whistles.
I've noticed that when announcers make this observation, it sounds like they think it's a good thing. Maybe more aggressiveness translates to a more exciting game.
When tempers flare in your meeting
Sometimes your meetings get rough. People are angry. Discussion turns to debate and eventually erupts into an argument.
Emotions are strong. It's loud. Blame and accusations fly across the table. Intentions are questioned. The name-calling starts.
Now what? You're the ref. It's your call. Take charge.
Overcoming my biases and preferences
To decide what action to take, I first need to recognize my own feelings about the emotional outburst. I like things to stay calm and under control. I rarely yell myself, and don't think others should either.
When I'm around people who don't share my preferences, it's easy for me to think of them as hotheads.
Over time, I've learned to recognize my biases about expressing anger are likely rooted in the way my family operated. We didn't and still don't yell at each other when we're mad. I'm much better at calmly-delivered, passive-aggressive digs.
As I've experienced different cultures, I've noticed a lot more yelling and shouting than what I'm used to. I've also noticed that it often produces good results for the combatants.
While I'm not likely to change the way I express anger, I've learned to have more appreciation for how others express theirs.
Safe doesn't mean comfortable
One of your primary responsibilities as a facilitator is to maintain a safe meeting environment.
When I was a new facilitator, I was like the ref who was quick on the whistle. I think I prioritized comfort over productivity.
After 25 years of practice, I'm much more inclined to let them play a bit. If tensions run high, I make sure the whistle is close at hand so that if the honest expression of opinion and emotion crosses a line, I'm ready to blow it.
While I still want to fulfill my responsibility to maintain safety, I no longer feel responsible to make sure everyone (including myself) is comfortable.
Sometimes I think comfort works against productivity. To maintain comfort I would have to discourage honesty. More times than not, uncovering underlying issues and creating agreements that stick require complete honesty.
It's your call
Before blowing your whistle, you need to make a judgment about the effect the heated exchange will have on the meeting and the group. Here are some of the questions I consider to determine what I should do:
Are the combatants voicing their passion for/or against an idea or are they attacking people?
Has the group struggled to get to the crux of the problem and does the escalation appear to be finally shining some light on it?
Are the players of roughly equal power/status? Is it a fair fight?
While uncomfortable, does it still feel safe?
Are people crossing any lines that violate organizational policies?
Your options
After reflecting on the questions, you still have to decide what to do. And even doing nothing is a powerful choice, assuming you make it purposely. Are you going to let them play or call the foul? Each option comes with a variety of facilitation tactics you can use.
Let them play
This could mean remaining silent and letting the argument play itself out. You could also do a few things that would moderate it a bit without squashing the honesty.
Paraphrase and summarize often. You help make sure everyone in the meeting is tracking the main points.
Reframe hostile statements. If someone says something that is unnecessarily harsh, you can put it into words that respect the intent and remove the harshness.
Probe. If you hear attacking generalities, you can ask for more details and examples.
Clarify. When someone makes an assertion that isn't clear, you can check to see if you understand the point.
Call a foul
If after letting things play out it becomes obvious that the nothing positive is going to result or if someone crosses a line related to safety or respect, it's time to blow your whistle. Here are some of the ways to do it.
Remind people of the applicable ground rules about respect. If such rules don't exist, you'll need to insert the idea on the fly. "While I'm happy to see the passion in the room, I'm concerned that we are not demonstrating respect for each other. Let's keep the conversation issue-focused and dial-back on the personal attacks."
Take a break. Sometimes everyone just needs a little time to work the adrenaline out of their systems. When they return they'll be able to proceed in a more productive manner.
A break is also a good time to call out unproductive behavior. "Renee, I know you feel strongly about this issue. The accusations you were making about Matt seem unfair. Making them in front of the group isn't helping us achieve our goals."
Confront someone in the moment if necessary. "Geoff, you've made your point, and we've all heard it. We need to give others a chance to get in on this conversation."
Discomfort might produce the best results
Like it or not, when you are the facilitator, you are also the referee if things should get out of hand. The trick is knowing when to let them play and when to call the foul. If you blow the whistle too soon, issues may not get resolved. If you blow it too late, some serious relationship damage can occur.
Giving your options some thoughtfulness is the best way to make the right call.
What have you seen done during a heated meeting exchange that you thought was effective?